WLAN for free
This is also Hamburg ...
Guesthouse Kirchwerder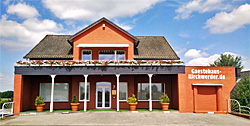 Thank you for your interest in our house. The guesthouse Kirchwerder is in the countryside, south-east of Hamburg, called the "Four- and Marschlands", which forms a charming contrast to the busy city of Hamburg with its harbour, Reeperbahn, Jungfernstieg and Alster, twenty minutes away.
If you are staying in Hamburg however long for business or pleasure, you are very welcome to stay in the guesthouse. We offer clubs and groups of up to 30 persons reasonable prices. There will be enough parking space for your car, vans or coaches.